SOURCE: Library of Congress, Prints & Photographs Division,
Theodor Horydczak Collection, [reproduction number, LC-H814- 2494-005]
Publication may be restricted. For information see "Horydczak Collection"
( http://lcweb.loc.gov/rr/print/res/100_hory.html )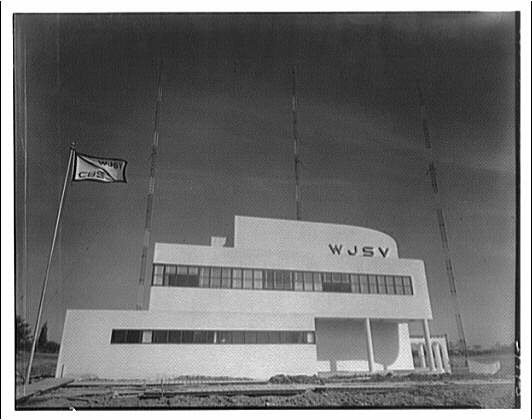 W.J.S.V. transmitter. Exterior of W.J.S.V. III
ca. 1920-ca. 1950. 1 negative. Horydczak, Theodor, ca. 1890-1971, photographer.
Thumbnail Images (Click Photo To View Enlargement)
Exterior I

Interior I

B'cast booth I

Antennae


Exterior II

Interior II

B'cast booth II

CBS station
in Wheaton I


Exterior detail II

Interior III

B'cast booth IV


CBS station
in Wheaton IV

Exterior III

Interior V

Control room I

Listen to
A Day in Radio
WJSV 1939

Xmtr

Photos
from 2006 at
the Mt. Vernon
Amateur Radio
Club web site.

Interior VI

Control room II

See a film clip
from 2/10/54 as
VP Clyde Hunt
relates WJSV
WTOP history.